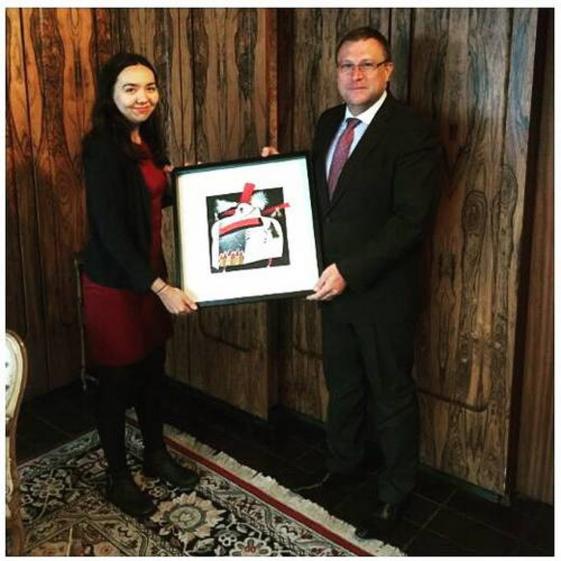 Dates of event :
16. 9. 2015
September 16th, 2015 – In London, Mrs. Sarah Roberts, representative of production company Magic Light Pictures, Ltd. received from the Ambassador of the Slovak Republic in Great Britain Ľubomír Rehák two awards from the Biennial of Animation Bratislava for the years 2012 and 2014.
Magic Light Pictures have produced several outstanding films intended for children that have been awarded numerous prizes at many film festivals all around the world, including the Biennial of Animation Bratislava.
In 2012, the Viktor Kubal Award for the Best film of the BAB Festival went to the film The Gruffalo´s Child, directed by Johannes Weiland and Uwe Heidschőtter. It succeeded The Gruffalo, an Award-winning film directed by Jakob Shuk and Max Lang, which was awarded the CIFEJ Award in 2010 and on the occasion of the renown International Festival Prix Jeunesse in Munich in 2014, it was announced as the most successful film for children in the last 50 years.
Among the Award-winning films of the BAB 2014 Festival was also another film produced by Magic Light Pictures. Based on an audience opinion poll, the Junior Audience Award went to the film Room on the Broom, directed by Max Lang and Jan Lachauer.
Gallery